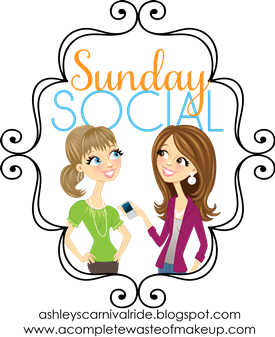 Second post of the day! Woo! I've linked up with Ashley and Neely for Sunday Social!
1. What is your dream job?
There are so many things! One that sticks out though is I always dreamed of working with Seventeen as the person that tests beauty products and writes about them. I'm glad I now have this blog so I can bring that energy here! But I would definitely love something involved with Marketing or PR.. It's my calling!
2. If you had just won the lottery and didn't need to work for money, what would you do with your time?
Probably do a lot of living.. lol! I would do a lot of boating, reading, yoga (hot yoga is one of my new favourite things), shopping, reading blogs, playing guitar and playing with makeup of course!

3. When you were a kid, what did you want to be when you grew up?
I wanted to be a professional figure skater and a professional singer! Fun fact about me is I started figure skating when I was five and I've been playing guitar since I was 12!
4. What piece of career advice would you give to someone just starting out in your field?
Technically my career right now is a student in university lol! So if your getting ready to head off to school, I would say you get out whatever you put into it so find something your truly interested in (which can be super hard at first but no worries, you'll get there!) and work hard.

5. What are your biggest pet peeves in life, blogging, or at work?
I think my answer would have to be the same as Ashley's. There is no room for senseless drama anywhere in life.

6. What are your biggest fears?
I hate styrofoam! OMG but I'm not afraid of it so that's not the best answer. Um.. I really hate flying and I suck with heights. *shutter*
So there it is guys! Please go check out the link up and let me know if you do this weeks questions!
☆☆☆☆