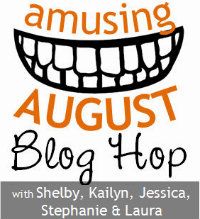 I have been so excited to link up with Steph and Laura @
ABrunetteDuet
for the Amusing August Blog Hop but I totally missed last week due to exams and now I'm late on this one! I have to get up to speed on my blogging haha! This weeks topic is:
Post a picture of yourself doing something funny or making a goofy face!
The first 3 are from different nights out with friends. We play this card game and when you get a king you have to place it on your forehead and you can make as many rules as you want until the king falls off. I love when I get the king and I think my friends caught on to it! Lol!
Being crazy at the beach
Shocked that our pizza was so small
Taken in Nashville.. I believe at the Country Music Hall of Fame
My whole family took funny pictures under this.


I love these link ups! I'm so excited for next weeks!
☆☆☆☆